Mickey as the reputation of being one of the very best caricaturists in the UK & Europe... The multi award winning artist reputation was further enhanced when winning CARICON UK in Brighton.
Est. in 2004 Mickey skills were recognised by the UK`s biggest theme park Alton Towers... Although having left the park in 2012 he still holds the record of most caricatures drawn in one day. Other awards, and accolades were soon to follow this talented artist when making it to the final of the speed competition in the USA, then later winning an award for his Black & White style in Holland.
A number of TV appearances in the UK & EUROPE followed.... Identity BBC... Pawn Stars UK... Dance Mums... etc
Due to work commitments Mickey was left with no option other than turning down oppertunities to appear on Blue Peter, and Britians Got Talent.... Putting his clients first is always the main priority with Mickey.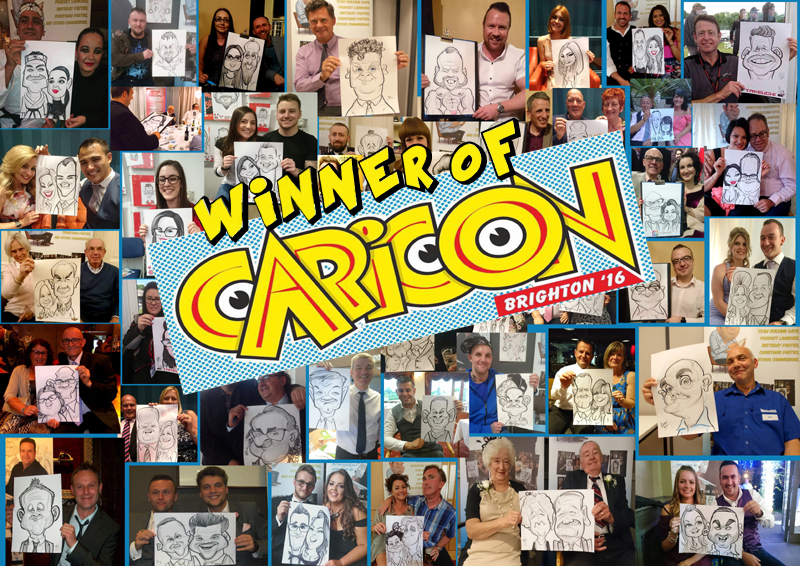 for their weddings, Christenings, and events.... Be it a Birthday Celebration or drawing on a company stand at an exhibition .

Unlike other caricaturists Mickey can draw faces of all ages, race, and gender.
Most other artists won`t draw babies when drawing at a wedding or event, and have trouble drawing people of a different race.
Mickey`s other strengths are having the ability to get a great likeness, and to be able to draw in a range of styles from a nice cute caricature to exaggerrated for the BRAVE !
Again unlike other artists Mickey is happy to provide footage of himself drawing live at events, backed up by many photos of people holding the caricatures he drew.
"Always book a caricature artist based on their ability, not on the size of ones fee"
The Bitterness Of Poor Quality Remains Long After The Sweetness Of Low Price Is Forgotten

Micky appeared on the BBC TV Programme Identity which is hosted by Donny Osmond. Contestants have to guess what Job the 'mystery' person has...... Check out my best Poker Face - although i do look a bit like a Mobster as well!!!